---
For a full list of BASHing data blog posts see the index page.

---
Encoding detection smackdown
In A Data Cleaner's Cookbook I've been recommending the file command for detecting whether or not a file is in UTF-8 encoding, mainly because file also reports line endings. I had some doubts, though, so I decided to run a couple of simple tests on file and some other command-line encoding detectors.
---
Preparation. The starting file I used in both cases is a modified, plain-text version of Tolstoy's War and Peace as downloaded from the Project Gutenberg website. The file is called "wap" and is a single line in UTF-8 encoding with about 3,200,000 characters.
For the first test I "salted" my UTF-8 file "wap" with a non-UTF-8 character, hex code 80 (the euro sign in Windows-1252 encoding). With this "salt" I replaced the one character at position 1, or position 10, or position 100, etc up to position 1,000,000, renaming the files with the "salt" character's nominal position: "wap1", "wap10" etc. For the second test I put the UTF-8 byte order mark (hex ef bb bf) at the start of "wap" and each of the "salted" files, renaming them "wapBOM", "wap1BOM", "wap10BOM" etc.
The five programs I tested (in alphabetical order) were
enca with language set to "none"
file with the --mime-encoding option
iconv converting from and to UTF-8
isutf8 from the GNU "moreutils" package
---
Round 1. file, iconv and isutf8 all found something wrong with the salted files. Note that iconv and isutf8 return nothing (exit status 0) if the file is valid UTF-8: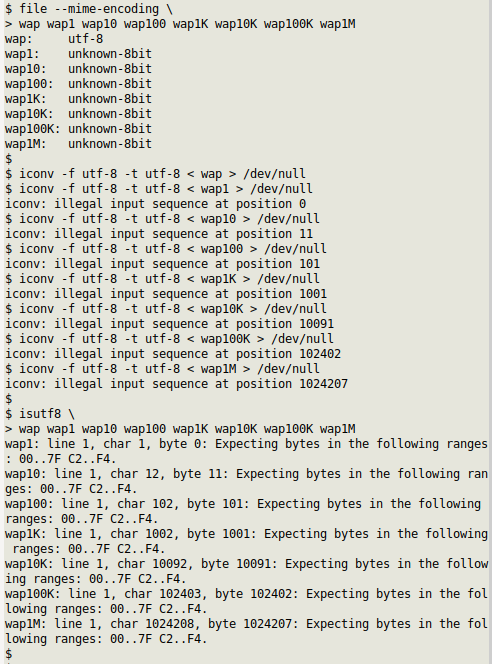 enca and uchardet both failed. enca thought the salted files "wap100K" and "wap1M" were OK UTF-8, while uchardet got all the salted files wrong: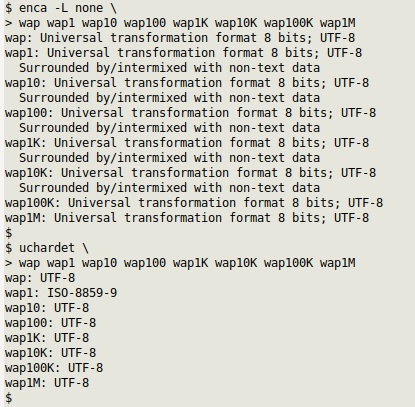 ---
Round 2. Neither file, iconv nor isutf8 was fooled by the initial byte order mark: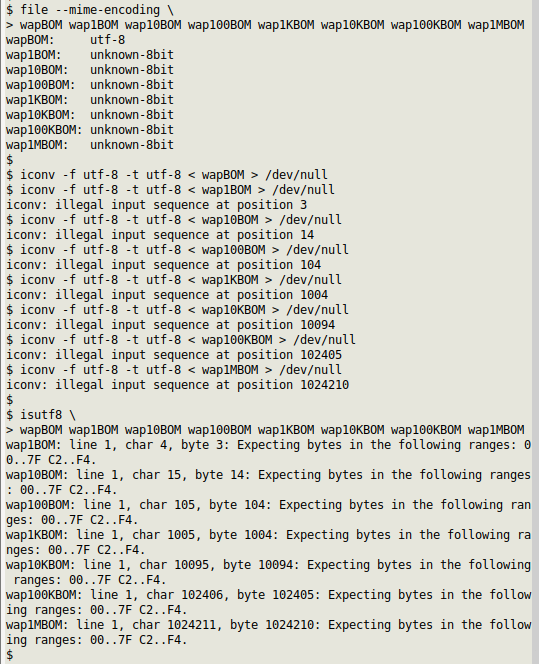 No change with enca, and uchardet took my word for it (my BOM) and said "wap1BOM" was also UTF-8: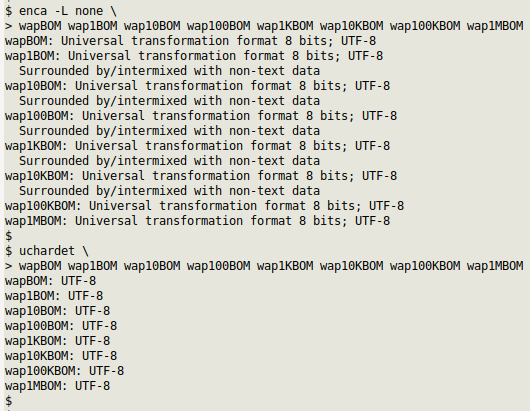 ---
Conclusion. file and isutf8 are both good choices for detecting whether or not a file contains only UTF-8 characters. I'll continue using file because I like the output messages, as in this screenshot from the Cookbook:

---
Last update: 2020-09-23
The blog posts on this website are licensed under a
Creative Commons Attribution-NonCommercial 4.0 International License
---